1905 (MS65 CAC) $2.50 Liberty Head Gold Quarter Eagle $2.5 Rattler Holder PCGS
Regular price
$1,500.00 USD
Regular price
$0.00 USD
Sale price
$1,500.00 USD
Unit price
per
Sale
Sold out
100% Satisfaction Guarantee We also buy, please offer!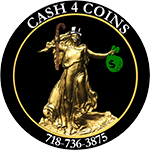 100% Satisfaction Guarantee We also buy, please offer!
Store Categories
Store Support
Categories
SatisfactionGuaranteed

1905 (MS65 CAC) $2.50 Liberty Head Gold Quarter Eagle $2.5 Rattler Holder PCGS
Click Thumbnails to Enlarge
Item Specifications
| | |
| --- | --- |
| Year | 1905 |
| Mint Mark | P |
| Coin Name | Quarter Eagle |
| Denomination | $2.50 |
| Grading Service | PCGS |
| Grade | MS 65 |
| CAC Verified | CAC |
| Precious Metal Content |   |
| Fineness |   |
| Mint | Philadelphia |
| Diameter |   |
| Weight |   |
| Composition | Gold |
| Design Type | Liberty Head |
| Edge Type |   |
| Country | United States |

Have questions about this item? Click here to send us a message!
Item Description Text
Phenomenal amount of luster!
Payment Policy:
All payments for our items must be made through eBay's payment system. Please note that Cash 4 Coins is not responsible for payment processing, as it is handled by eBay. Placing an order with us locks in your price. Please keep in mind that both the precious metals and numismatic markets can be volatile and change on a regular basis. By placing your order, you are securing your price, which cannot be adjusted later. This is at the discretion of Cash 4 Coins and will be discussed with the customer prior to finalizing the sale.
Sales Tax:
Please refer to eBay's state sales tax requirements page for information on taxes that may apply to your purchase. Since the Supreme Court decision in Wayfair v. South Dakota, eBay now handles all sales tax for eBay transactions. This means that if sales tax applies to your purchase, eBay will calculate and collect the required amount on behalf of Cash 4 Coins, and remit it directly to the appropriate taxing authority. You will see the total cost, including any applicable taxes, at checkout. If you have any questions about sales tax or how it applies to your purchase, please refer to eBay's state sales tax requirements page or contact eBay customer service for assistance.
Thank you for choosing Cash 4 Coins for your precious metals and numismatic needs.
Shipping Policies:
We offer free shipping on most of our listings! All domestic packages are sent via USPS with tracking. Other methods may be used depending on the circumstance.
Purchases under $750 are shipped via First Class Mail.
Purchases over $750 will be shipped via USPS Mail with Signature Confirmation.
Purchases over $1000 or weighing over 16 oz will be shipped via Priority Mail.
Purchases over $5000 are shipped via Priority Express Mail.
Shipping upgrades are available upon request prior to checkout for an additional fee.
All items must be shipped directly to your registered eBay address, no exceptions. We will not ship it to an alternative or forwarding address.
On most orders, we ship the same/next business day, but allow ourselves 2-3 business days to get your order out during high volumes. Handling times are mentioned in the listing's shipping section.
Ebay strives to provide you with accurate estimates of shipping times, which will be posted as soon as we upload the shipping information to your order. However, please note that these time frames are only estimates by the eBay system and not guarantees.
To avoid any issues, please double-check your order before submitting payment, as once the order is placed, it cannot be adjusted – only canceled.
It is important to understand that once your item has left our facilities, it is under the control of the third-party shipping service. While we always do our best to provide you with speedy service; unforeseen delays or incidents such as damage or loss during transit can happen. Please know that we consider all of these scenarios to be unacceptable and will never burden our customers with these issues. In the event that anything happens to your product during transit, message our customer service team so we can take care of it for you.
Your satisfaction is our top priority and we will do everything in our power to accommodate you.
Returns Policy
Please refer to the listing's return policy as our policy varies from item to item.
About Cash4Coins
Cash 4 Coins was ignited by the passion of a true coin collector. In 2013, this very eBay account was created for the same reason you created your eBay account; to build a collection. Over the years, our collection was amassed, and our passion for coins grew. Dealing with countless sellers on and off eBay provided us with an intuition of what made us happy as a collector. Eager to provide collectors with great coins and even better service, Cash 4 Coins LLC was incorporated in 2021.
Unlike many coin dealers, we enjoy dealing with our collectors on a personal level. We travel to coin shows across the country, building and maintaining strong relationships with dealers and collectors. Our inventory, along with our connections in the coin industry helps us contribute the best variety of coins for our collectors.
Whether you are looking to buy a specific date to complete your set, a blazing gem to marvel at, or some bullion for your stack, we will treat you with the integrity, transparency, and respect every collector deserves. We appreciate everyone's business and look forward to building relationships.
For the dealers, we are part of many dealer organizations and groups such as CDN, CCE, PCGS, NGC, FUN, ANA, and a few more.
Please don't hesitate to reach out with any questions or inquiries. We're here for you.
Cash 4 Coins.
Contact Us
Questions or comments? We welcome your inquiry! Please click here to contact us, and we will get back to you as quickly as possible.
Shop By Category
Contact Us:
Email Us: Click Here
Call Us: (718)736-3875
Visit Us:

We Buy:
US Coins

Bullion

Foreign Coins

Estates

Collections
Our Services:
Wants Lists

Grading Submissions

Appraisals

Buyouts

Consignments
Share